ジーナ先生より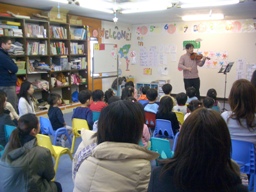 Since one of our themes for February was music, we asked a professional musician to come and play for the children.
Mr. Satoshi Inoue of Miharu was kind enough to come and play violin for us.
At circle time we talked about how to behave at the concert, and then had an early snack so we could be ready for Mr. Inoue.
Some moms and grandmothers also come for concert. The kids enjoyed hearing the violin and singing some songs with the violin.
We sang the Tulip Song, and Sanpo (from Tonari no Totoro), and Twinkle Little Star, as well as a couple of others, and we heard a song by Beethovan.
The children were enthusiastic and even requested songs for second concert. At the end of the concert, A.Sh. and N.M. gave him flowers and thanked him.
After the concert we made Momotaro paper and chopstick puppets so we can act out the Momotaro story with our friends and at home.
The kids enjoyed coloring and making the puppets, and we sang the Momotaro Song while we worked.
After lunch we practiced our Teddy Bear Songs and the handbells for the upcoming concert. The kids really love dancing with their stuffed animals.
ジーナ先生より
Today we read a story about Valentine's Day and talked about the similarities and differences between Japanese and American Valentine's Day.
We discovered that on Valentine's Day in America and Canada, kids make cards to give to their family and friends to say "Thank You" for their love and support throughout the year.
Afterwards, during Language Arts class, we practiced writing out names on the backs of our Valentines Cards.
And then during craft time, we decorated our cards with pasting, coloring, and stamping. The kids enjoyed making all different kinds of cards in different ways.
The Kinders learned about using TO and FROM on letters to indicate the RECIPIENT and the SENDER. And they practiced writing the names of the other students and teachers.
On Thursday morning, the kids took turns delivering their Valentine's to the different mailboxes around the classroom.
The kids enjoyed playing MAILMAN!
ジーナ先生より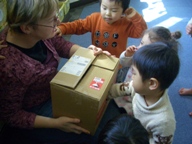 Tim had story time with the Toddlers while Jeana read Momotaro with the big kids.
Then after snack, we broke into two groups. Tim and the Kinders played a matching letters game while Jeana and the Rompers did their Z pages in the workbook.
Some of the Rompers also worked on writing and reading the numbers.
After 30 minutes we switched and the Rompers played blocks with the Toddlers while the Kinders practiced reading their numbers.
N.M. coached B.J. on writing numbers one to 5, while S.S. coached K.W. on writing numbers one to 10.
Both coaches did a great job, and both K.W. and B.J. showed improvement.
And A.S. coached A.Sh. on reading and spelling number words one to ten.
We are trying to teach the kids how to COACH each other. This gives the kids a chance to help eachother.
After table time, Tim led a craft time. We had fun making a SECRET Valentine's present for our moms and dads. Won't our mothers be surprised and pleased!
After lunch we enjoyed some free time with the blocks and tanagrams, while some of the kids practiced their ball bouncing skills and some of the big girls "played school and house" with the little ones.
ジーナ先生より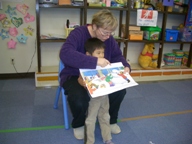 This week has been hard without Rebecca but we are managing.
In morning circle we played "Silly Itazura Storytime".
Jeana read the "Frosty the Snowman" story but with a difference - she changed parts of the story, and the kids had to shout out "No, Jeana." and give the correct information.
For example, at the start the story goes "It was winter vacation and the children were outside playing in the snow." But Jeana read "It was SUMMER vacation and the children were at the beach."
The children quickly caught onto the game and ejoyed changing parts of the story. Our snowman became TIM instead of Frosty and Tim-sensei got to act out parts of our new silly story.
After, we learned a new song which is sung to the tune of "You Are My Sunshine".
The song goes......
You are my snowman,
My only snowman,
You make me happy when skies are grey,
And when the sun's out,
You'll hear us all shout
please don't MELT (or take) our snowman away.
At snack time, we had a birthday party for B.J., R.I. and A.Sh. Mrs. Kimie made delicious steamed blueberry and yogurt cakes. They were delicious.
After Circle and Storytime we had language arts. The children did the "Y" pages in their workbooks, then wrote a PICTURE STORY about something special they can do. "I can......"
From this week, on Wednesdays the Rompers and Kinders will take turns helping Tim with Toddlers.
The big kids enjoyed playing housekeeping (mommy gokko) and playing Rhyming Bingo with the little ones. (N.S. got a taste of being a real mother, as she carried and took care of our newest Toddler most of the day. She was a real trooper and did a great job.)
ジーナ先生より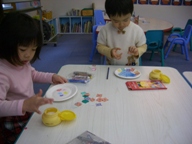 It was a very cold morning, so we kept the kids busy with balls and hula-hoops this morning.
The children have become very good at sharing the balls and toys (with a little encouragement from the sticker fairy).
The children are also helping out more and more in the classroom. This morning N.S. was Jeana's sticker helper, and K.W. and U.Y. and B.J. helped Rebecca set up the chairs for morning circle.
In morning circle, Rebecca reviewed the "W" words, and read the OPPOSITES book. While reading the story, the kids practiced TALL AND SHORT by comparing sizes.
"H.W. is taller than H.I." etc.
"A.Sh. is shorter than N.M." etc.
We danced and sang to "Are you Ready?" and "Five Little Ducks" and some other songs.
After circle time, the kids enjoyed chatting about "Dangerous" things while eating their snacks, and we read our "OUT" books during language arts.
Then the kids made a cool racket and birdie for Japanese badminton(Hanetsuki).
We had a very fun day together today.
ジーナ先生より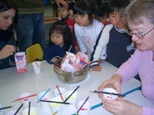 Today was a quiet day. A lot of children were out sick today, so we had a small group.
At Circle Time, Rebecca played a fun Christmas vocabulary game with all the kids, and Jeana taught the kids a Christmas rhyme:
"Santa Clause is Big and Fat.
He wears black boots and a big red hat.
His nose if red just like a rose.
And he "ho, ho, ho's" (laughs) from his head to his toes. "
Then they sang and danced to "Rock-a-bye Bear" and other favorite songs. They were so cute singing the Bear song. You can see they really enjoy this song.
We had a special snack of brownies (fresh from the oven) and ice cream for K.K.'s birthday.
After snack we made beautiful tree top angels. The kids enjoyed decorating their angels with colorful sequins and sparkles. I think the angels will look beautiful on your Christmas trees for years to come.
After lunch, the kids did their U worksheets and took turns trying on beautiful Korean fashions that B.J.'s mommy lent us. They enjoyed wearing the beautiful colorful traditional dress of Korea.
The kids did a great job today sharing the two bouncing balls. The older kids love to dripple the ball, and the little ones are trying so hard to copy them.
The kids are sharing and playing together very well these days. I am so proud of them!