レベッカ先生より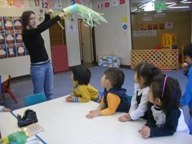 Back after the long weekend we started the week with 'W' vocabulary. We introduced some new words like wagon, wasp, walnut and worm.
We moved on to fruits and vegetables. There were a few new ones here too, but everyone was trying their best to answer.
We finished by reading 'Where is Spot?' The children know this book very well now and it's hard to trick them.
After snack time Rompers and Kinders did the 'W' pages in their workbook.
We also started our "Out" book readers, visually recognising the word "out".
In craft time we made wind socks for W week. The children took them home so they could hang them up out side and see which direction the wind is blowing from and how strong it is.
Our PE lesson today was an obstacle course of blocks the children had to cross and balance on. After a few tries they were completing the course with ease.
Before leaving we had to talk to the children about the proper care for our books. No drawing or tearing the pages from the books because they are everyone's to share.