"Silly Itazura Storytime": January 30, 2008
2008年 01月 30日
ジーナ先生より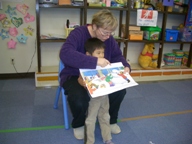 This week has been hard without Rebecca but we are managing.
In morning circle we played "Silly Itazura Storytime".
Jeana read the "Frosty the Snowman" story but with a difference - she changed parts of the story, and the kids had to shout out "No, Jeana." and give the correct information.
For example, at the start the story goes "It was winter vacation and the children were outside playing in the snow." But Jeana read "It was SUMMER vacation and the children were at the beach."
The children quickly caught onto the game and ejoyed changing parts of the story. Our snowman became TIM instead of Frosty and Tim-sensei got to act out parts of our new silly story.
After, we learned a new song which is sung to the tune of "You Are My Sunshine".
The song goes......
You are my snowman,
My only snowman,
You make me happy when skies are grey,
And when the sun's out,
You'll hear us all shout
please don't MELT (or take) our snowman away.
At snack time, we had a birthday party for B.J., R.I. and A.Sh. Mrs. Kimie made delicious steamed blueberry and yogurt cakes. They were delicious.
After Circle and Storytime we had language arts. The children did the "Y" pages in their workbooks, then wrote a PICTURE STORY about something special they can do. "I can......"
From this week, on Wednesdays the Rompers and Kinders will take turns helping Tim with Toddlers.
The big kids enjoyed playing housekeeping (mommy gokko) and playing Rhyming Bingo with the little ones. (N.S. got a taste of being a real mother, as she carried and took care of our newest Toddler most of the day. She was a real trooper and did a great job.)